---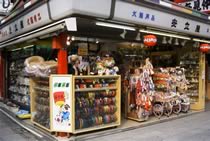 Trade Name
ADACHI-YA
Type of Business
Selling goods
Handling Items
Collars, strings, and clothing for dogs/cats; dog food and cat food, bags, and ornaments of pets
Address
1-31-3 Asakusa, Taito-ku, Tokyo 111-0032
Telephone
(03) 3844-1643 (in Japanese)
Fax
(03) 3844-3278
Regular Holiday
Everyday open
Office Hours
9:00 - 19:30
Mail Order
Available
Overseas Order
Not available
E-mail Address
adachiya@tctv.ne.jp
Web Site
http://www.tctv.ne.jp/adachiya/
Credit Card
AMEX, Diners, VISA, Master, JCB, DC, UC
Comments
Now the forth generation is running this shop since the establishment of Nakamise in December 1885.
Leather collars and strings are manufactured at our workroom. We can manufacture special products requested by our customers. You can enjoy our display of petsÕ clothing and real-looking animal dolls.
We also have ÔWan Wan Beauty SaloonÕ (petsÕ trimming room) here.
@