---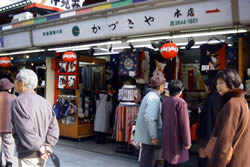 Trade Name
KAZUSA-YA Branch one
Type of Business
Selling goods
Handling Items
Attachments to Kimono wear (Han-eri*, Obi**, Obiage***, Obijime****), Underwear for Kimono, etc.
* Collar for Kimono, ** Kimono sash, ***/**** ornamental strings attached to Obi
Address
1-30-1 Asakusa, Taito-ku, Tokyo 111-0032
Telephone
(03) 3844-1601 (in Japanese)
Fax
(03) 3841-0181
Regular Holiday
Everyday open
Office Hours
10:00 - 18:30
Mail Order
Available
Overseas Order
Not available
E-mail Address
None
Web Site
None
Credit Card
AMEX, Diners, VISA, Master, JCB, DC, UC
Comments
We are the shop specializing a variety of goods for Kimono wearing. Our motto is: 'at reasonable prices', 'plenty of choices', and 'courtesy to customers'. We have kept Kimono culture for 95 years by providing any kinds of Kimono goods.
We are happy to advise you for Kimono wearing.
Ā@