---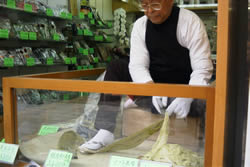 Trade Name
OOMIYA KOMBU-KAISOU
Type of Business
Selling food stuffs
Handling Items
Food products made of Kombu* and others
* edible seaweed
Address
1-18-1 Asakusa, Taito-ku, Tokyo 111-0032
Telephone
(03) 3844-5044 (in Japanese)
Fax
(03) 3844-5044
Regular Holiday
3rd Wednesday a month
Office Hours
9:00 - 19:00
Mail Order
Available
Overseas Order
Not available
E-mail Address
None
Web Site
None
Credit Card
None
Comments
As a store specializing Kombu, we have been giving demonstration of our products for 40 years. Kombu is the basics of Japanese taste. At our demonstration, our staff wearing downtown festival wear (Donburi looks) cut Kombu. We use natural 'Rishiri' Kombu. Freshly cut Kombu is very soft and smooth, having natural sweetness and a plenty of minerals. We have nearly 50 kinds of Kombu products. You may feel nostalgic sweetness and smell at our store. You are very much welcomed.
Ā@